Joanne and I have always done the Jack Frost TT on our tandem. However, she had a unbreakable commitment so I was left to race Jack Frost for the first time by myself. This would also mark the first race for the Felt S32 Time Trial bike I purchased used late last year.
Knowing that my start time was at 10:38:30 am, I began my drive up to Vancouver shortly after 8:00 am. This gave me a good two hours to socialize and prepare. The morning was sunny but just as I drove into the race area, I encountered fog. I parked in the north parking lot next to Rick and exited my van to a very cold morning. I soon put more clothes on.
I started my pre-race checklist: confirm start time, visit the port-a-potty, set up the bike on the trainer, get dressed and lay our my final clothing (helmet, sun glasses, etc). While I was doing the checklist, I ran into many friends old and new and visited. As I wandered about, I saw that the fog was lifting and I was pleased.
Soon it was time to begin the warm up procedure: get on the bike and slowly bring up my heart rate, consume about 300 calories, and then raise the heart rate to 85% of race pace. Then, with just under ten minutes to my start time, I got off of the bike, put the trainer into the van, and finished dressing for the race. I rode over to the start and confirmed I had six minutes so I did one quick, hard warm up sprint before returning to the start. I was back with just one minute before race time.
Ten…five, four, three, two, one and I was off racing. I started chasing my 30 second man and brought my heart rate up above 155 bpm, my race pace. Soon, I was at the first of four turns, the hard right-hand turn just past he finishing line. I took it at speed and I did get out of the aero-bars. I nearly crossed the center-line, but kept the bike inside by less than six inches. Now, I had six miles to ride until the turn-around. I could see my 30 second man in front of me, but I did not seem to be gaining. Oh well, I was riding hard and just within my limits.
About one half of the was to the turn-around, I was passed by Joe Rothery. He offered encouragement as he passed, and I did try to keep him insight, but he slowly pulled away. No one else caught me before the turn-around.
The turn-around was smaller than I remembered, and I had to slow more than I wanted. I dropped down to eight miles per hour, but once I made the turn, my power output went up to over 400 watts until my speed came back up. But, now I found I was facing a slight head wind. My speed dropped every so slightly while my power output raise slightly as I attempted to maintain speed. I realized that the return was going to be harder.
After the turn-around, I saw that there were two riders just behind me. I knew that they were going to pass me, so I tried to make it as hard as possible for them. One went by me very soon and fast, while I did manage to hold off the second for some time. But it was hopeless, and he also passed me. I fought to keep him within sight and surprisingly, I was successful. I could see that he was gaining on a rider, so my goal became to pass that rider too. It was hard, but having a rabbit always helps and I passed him well before the finish.
Soon that I came to the last turn of the race, a hard left turn that I took in my aero-bars and began my sprint for the finish.
Time: 33:59
Place: 20 out of 28 starters
Average Speed: 21.37 mph
Average Power Output: 244 watts
Average Heart Rate: 158 bpm
I am please with my result, I was not last, I broke 21 mph and I had fun.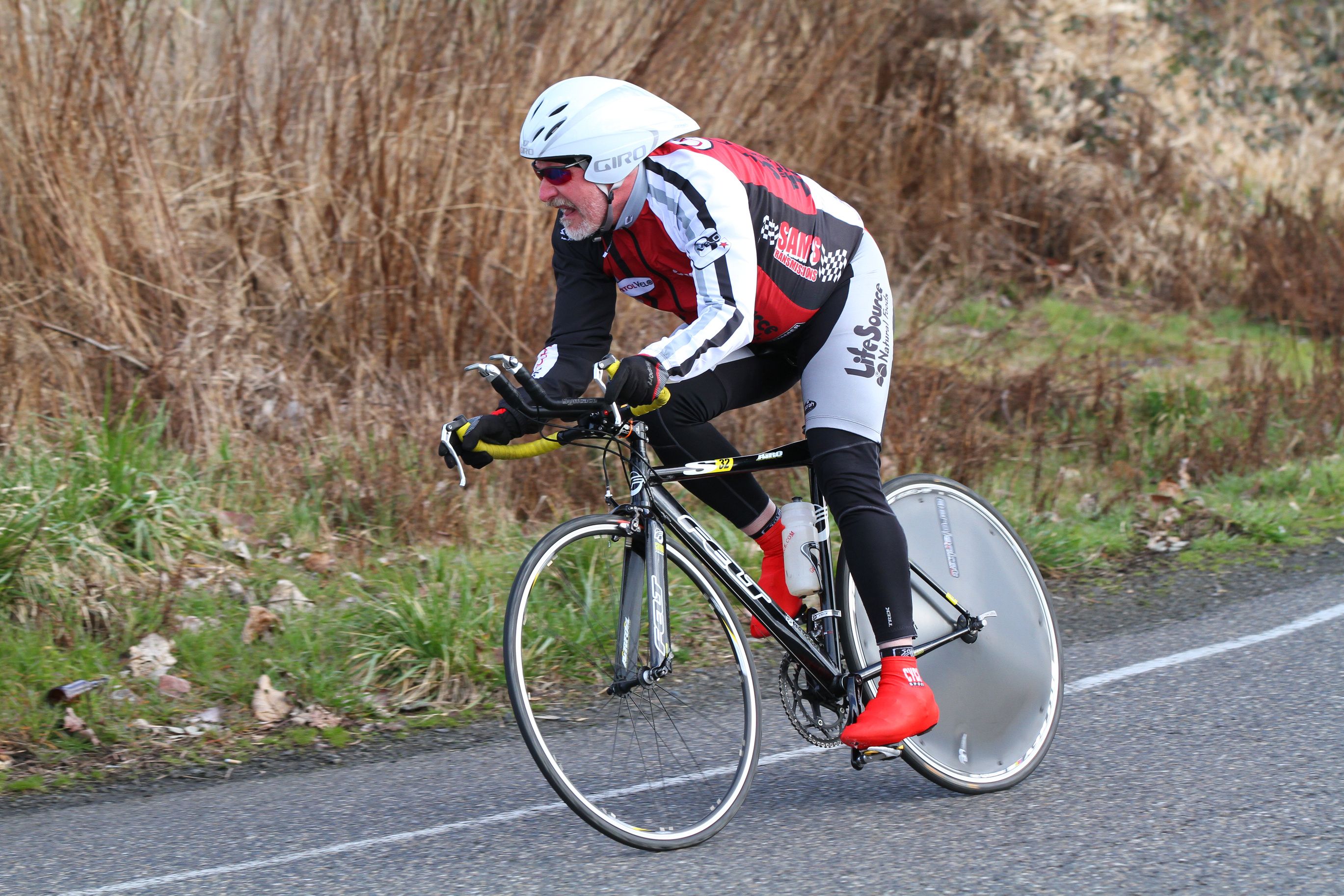 ---
Other blog postings about the Jack Frost
Wookiebiker