Today's training plan called for a five hour ride. In addition, John "Geoduck" Pearch asked if we could do a 100k permanent. I picked out a ride that has one, large climb that starts about half way between us and suggested it to him. He liked it, so four of us braved a cold morning start in Hillsboro. Joining John and myself were Mark and Jim.
After ten miles of semi-urban riding, we found ourselves at the foot of a 1,400 foot climb in less than five miles. Fun! My training planed called for me to stay below a heart rate of 147 beats per minute so I soon shifted into granny and spun my way up the hill following my three companions by 100 feet or so.
The Bald Peak climb is worthy. Most of it is at a reasonable 6-7%, but there are some pitches at 10%! We spent some time at the top admiring the views, but soon we were descending in the very cold. But the time we reached Newberg, we were ready for a warm coffee shop and some treats. The Coffee Cottage was perfect!
But all too soon, we have to get back into the cold and head northward back to Hillsboro. We enjoyed the flats of Spring Valley Road but did test ourselves on the several rollers along the way. Soon, we were in Forest Grove and decided to visit Mike Olson at Olson's Bicycles. Mike always has a smile on his face.
From Forest Grove, we were back into urban cycling with lot's of traffic. However, as we neared our cars, we were on some quieter roads. We finished with over 65 miles and no rear rain!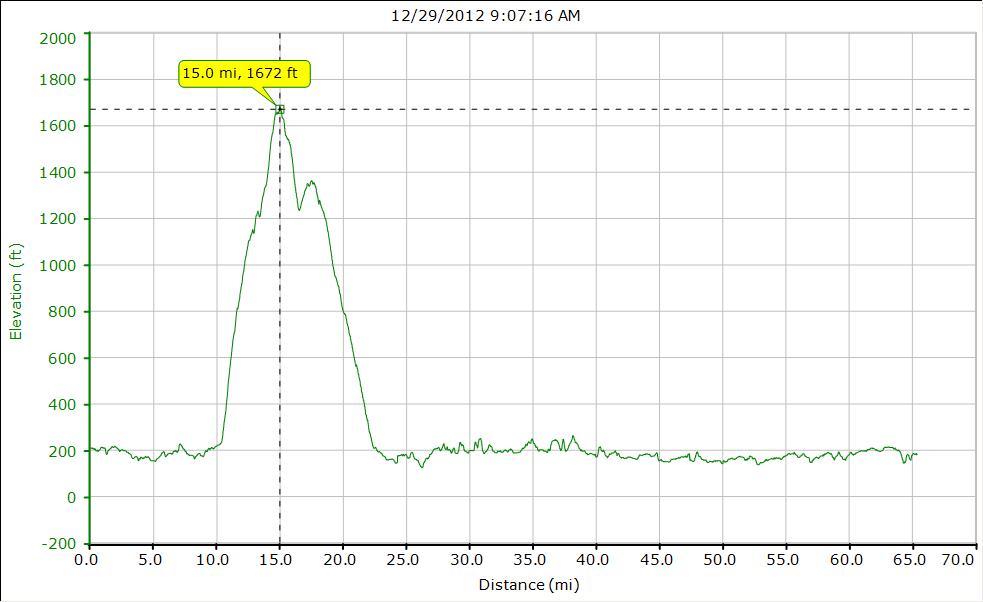 Heart Rate Zones
| | | | |
| --- | --- | --- | --- |
| Recovery | 0 – 117 | 2:16:51 | 39.19% |
| Endurance | 118 – 136 | 1:47:43 | 30.85% |
| Threshold | 137 – 151 | 0:38:12 | 10.94% |
| Race Pace | 152 – 154 | 0:02:40 | 0.76% |
| Max | 155 – 250 | 0:01:26 | 0.41% |