What? Another Time Trial? Didn't we just race yesterday? What about a rest day?
No rest day for us as the Crank PIR Time Trail is on the OBRA Time Trial Cup calendar. Joanne won her division last year. She wants to defend it.
The day broke clear and warm. By the time we arrived at Portland International Race Way, the temperature was nearing 70°s. It was a beautiful spring day. Joanne's start time was less than an hour away so we set up her Kestrel on the trainer and she began to warm up, and to sweat. A few minutes before her start time, we wandered on over to the starting line an listened to the lecture – six laps that you must keep track of yourself, no drafting, on your last lap stay left toward the finishing line and most importantly, ride hard!
My start time was an hour and one half after Joanne's so I got to watch most of her race. She looked good, as if she was riding hard.
Once Joanne started, I had to begin my own warm up. I climbed onto my Felt and began to spin at a very easy pace. After ten minutes, my effort was up to 150 watts and sweat was dripping down from my forehead onto the bike and the ground. As my intensity increased, so did the sweating. Sometimes, I think the time trial warm up is harder than the actual race!
Joanne finished as I was warming up. She was happy with her effort and mentioned that there was slight head wind on the back stretch. I finished my warm up and head to the starting line.
My start had been better in the past. I opted not to be held (hey, I'm a big guy!) and I had trouble clipping in one my race started. But I only lost a second or two. Once clipped in, I accelerated down the track toward the first turn. I had six laps to race and I wanted each and every one of them to be fast. However, there are some awfully fast folks and all of them seem to be racing today, and passing me. I would try to hold on, to find a good rabbit, but this was not to be.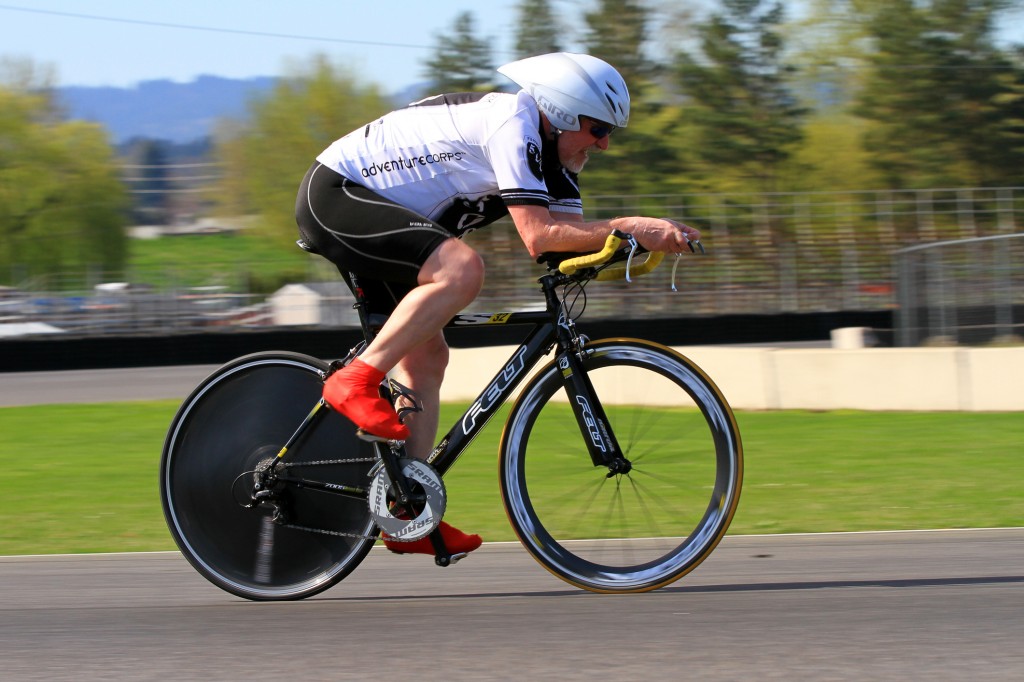 However, on my fourth lap, I did slow gain on someone. I set my sights on him and worked my way up to him. I realized that I would catch him just as we came to the only technical corner on the track. As we approached it, I saw that he started the turn way to early; his line was way off. I stayed to the right and dove down to the left below him and got around him. Now I worked even harder so he could not stay with me.
My last lap was very hard. I was running out of energy and I knew my time was good. I had to keep the effort up! If I did so, I may beat my best time of 30:53.18! My effort was worth it as I finished in 29:51.83, more than a minute faster!
Joanne also bested her best time of 34:13.51. She finished in 32:09.60 taking two minutes off her best time!