While TrainerRoad has a multitude to workouts that you can choose from, I'm a tweaker. So I had to explore the ability for TrainerRoad to create a custom workout.
I used a workout from the December issue of Bicycling magazine from an article entitled "Arctic Blasts".
The workout creation interface ran slowly on my under powered PC, but that just gave me time to think about what to do next.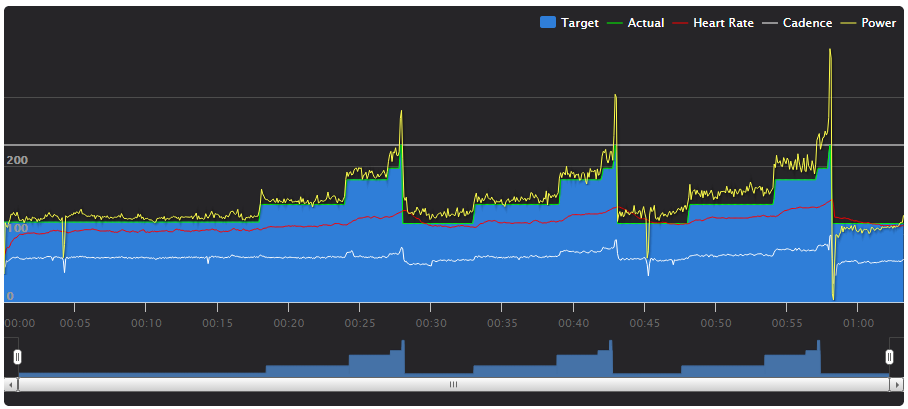 Once I had a few minutes of experience and after a couple of oppies, I got the hand of it and quickly created my workout.
Then I rode it. The method you use to determine the intensity of the intervals is by percent of Functional Threshold Power. The workout described in the magazine was based upon perceived exertion. My translation was a bit low and as such, my actual values (yellow) ended up a bit higher than my targeted values (blue). But the beauty of the TrainerRoad tool is that I can edit my custom workout to increase the targeted efforts. I'm going to have some fun with this!
Avg
Max
Speed
13.8 mph
22.4 mph
Heart Rate
116 bpm
151 bpm
Cadence
65
100
Power
147 Watts
415 Watts
Calories
648
Temperature
72?

Elapsed Time

1:06:07